API DRIVEN ANALYTICS (PER SECTOR)
More and more software tools work with so-called APIs (application programming interface). We believe that entrepreneurs must always have access to their own data and must be able to convert data into 'insights'. The emergence of the "Software as a Service" ensures that you no longer manage the data yourself. Although SaaS offers many advantages, we consider it to be a major disadvantage that you have no access to your data. At Coney's, we develop APIs adapters, so that you can access your own data! The EasyFlex Adapter is an example of this. We'd also like to build your API solution.
Available for multiple business units
Clear visual insights
The option to unlock your data at the chosen frequency
You are not bound by standard reports, but you can customize them
EXAMPLE API Solution: EASYFLEX
Easyflex is a cloud based solution for the flexible work sector that offers the possibility to obtain data through an API. An API is a described and documented protocol that a data analyst/developer can use to unlock data.
We use the BI tool Lavastorm to unlock the data from an easyflex administration. We then combine the relevant data fields and export this to a pre-built Flexwork management dashboard in Tableau. The process of unlocking, enriching and exporting data is also called an ETL process.
Download our sales presentation here, then we can talk directly about your business analytics issue upon introduction!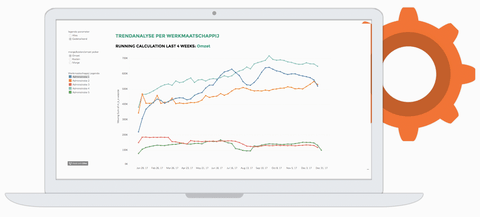 The API Adapter Solution
The advantage of accessing data with an API compared to standard exports are: the data is combined into one dataset and automatically converted into a management dashboard that we have already pre-built in Tableau. Of course, every dashboard can be further expanded on the basis of this dataset. By you, one of our BI reporting experts, or together.
The Solution
In addition to converting API data into a management dashboard, the same data set can also be used for data analyses. Analysis such as: Which temporary workers write overtime, while less than 40 p/w of normal hours have been worked? Which temporary workers are eligible for a phase B contract next week? Data analysis that directly contribute to the quality of internal control and insight into the performance of your flexible work organization!