MANAGEMENT REPORTING DASHBOARD
Within each SME company, some form of management information is available. Often a collection of Excel documents that originated historically. An abundance of data, but not necessarily an abundance of information.
We believe that you can better manage your company on 5 well-designed smart meters than on 35 pages full of information. Of course, the smart meters are built on the basis of the actual data of your company and we guarantee reliable meters.Because our management dashboard is built on the basis of the actual data of the underlying processes and we create focus by limiting the amount of information, you can make fact-based decisions faster. And yet you can return to the underlying source data from any meter/visual.
Coney helps you as an entrepreneur by providing the desired insight on computer, tablet and phone. We do this daily, weekly, or monthly. The way it suits you.
Insight into the most important KPIs and more data
Clear visual insights
Reliable through the use of hard data
Simple overview, whenever you want
MANAGEMENT REPORTING DASHBOARD
We offer our management dashboards in Tableau. The source data for the dashboards can be read in different ways. For example, the APIs for Exact Online or Twinfield, a database backup of Exact Globe or just an Audit File.
Depending on your wishes as an entrepreneur and the possibilities of the supplier of your financial administration we choose the solution that best suits this. The big advantage of an API is that you can easily update the dashboard much more often. With an Audit File this is a lot more difficult, but even then a monthly Management Dashboard is possible.
Download our sales presentation here, then we can talk directly about your business analytics issue upon introduction!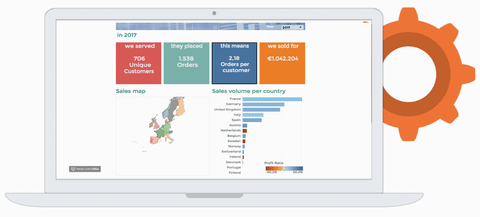 The Solution
Ultimately, the solution for you as an entrepreneur consists of a management dashboard in Tableau. The way you want to receive and view the dashboard depends on the situation.
We have the possibility to fully offer the management dashboard within our Coney domain. The advantage is that you do not have an initial purchase of Software licenses, but you can still use the capabilities of that software.
Direct Insight
In this situation you can access your Dashboard in the Coney domain and can view the dashboard from anywhere on your laptop, iPad or phone!
Another possibility is to manage the management dashboard entirely locally. You can then easily update regularly. The disadvantage is that you will have to deal with the initial costs of purchasing the software.